Dotta Coppa & Darrio's entertaining and blissful music video for "Thank God I'm Living" depicts two different Jamaican lifestyles. It shows that whether you reside in the "Ghetto" or in a "Gated Community" the power and love of music brings everyone under one umbrella.
The song is featured on Dotta Coppa's latest release "We Love Dancehall – The Album" produced by Dancehall Station Productions from Germany and Prince Villa Records from Jamaica. Dancehall Station visited Jamaica to shoot the video and organize a party to support the artists working with them. Scenes from the video were shot in Uptown and Downtown Kingston and at the "We Love Dancehall" party that they organized.
The video and song represent the feel good lifestyle of Jamaica and that we should give thanks for life. The title of the song is more important than ever in these times and the music should uplift the people.
German:
Das unterhaltsame wie beseelte Video von Dotta Coppa & Darrio zu "Thank God I'm Living" zeichnet zwei unterschiedliche jamaikanische Lifestyles nach. Egal ob man in einem "Ghetto" oder in einer "Gated Community" lebt, die Kraft und Liebe der Musik bringt alle unter einem Schirm zusammen.
Der Song stammt aus Dotta Coppas jüngster Veröffentlichung, "We Love Dancehall – The Album", produziert von Dancehall Station Productions aus Deutschland und Prince Villa Records aus Jamaika. Dancehall Station reiste nach Jamaika, um das Video zu drehen und eine Party zu veranstalten, mit der sie die Künstler aus ihrem Team unterstützen. Die Szenen des Videos wurden in Uptown wie in Downtown Kingston sowie bei der genannten "We Love Dancehall"-Party gedreht.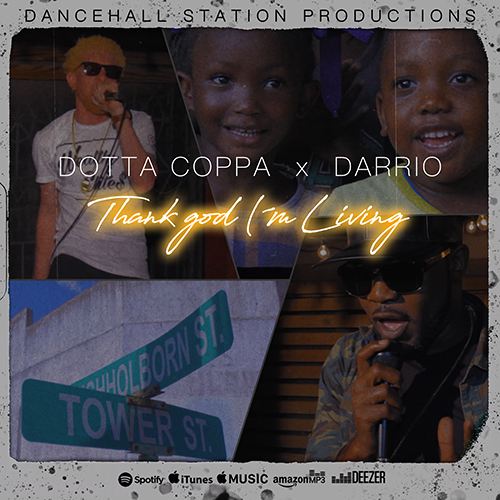 "Thank God I'm Living" is taken from the album
"We ❤️ Dancehall".

Follow DOTTA COPPA on Instagram
Follow DARRIO on Instagram
Follow DANCEHALL STATION on Instagram
Follow PRINCE VILLA RECORDS on Instagram